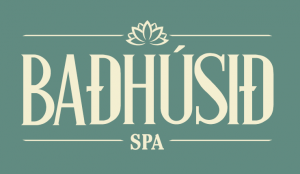 Baðhúsið – SPA is situated on the ground floor of Gistihúsið – Lake Hotel Egilsstadir. It features a comfortable, indoor hot tub (40°C) and a mild sauna which combines the comforts of the steam room and the dry sauna. Its humidity is around 60% and it warms up to 65°C. There is also a cool sitting pool of 10°C. Relaxing areas are both indoors and outside. The view from Baðhúsið – SPA across the lake Lagarfljót is very beautiful. We want our guest's visit to the spa to be an enjoyable experience of tranquility, relaxation and rejuvenation. Bathrobes and towels are provided in the dressing rooms. Pool service can be provided at your convenience from our special Baðhúsið – SPA menu.
Please observe that the hotel does not guarantee the security of valuable items, such as jewellery, in the dressing rooms at the Baðhúsið – SPA. Age limit for the Baðhúsið – SPA is 12 years of age. Bæta þessu við.
Opening hours
Baðhúsið – SPA is open every day from 10.00 am – 10.00 pm.
Appointments
Appointments for a visit to Baðhúsið – SPA must be made in advance. Appointments can be made for groups. We welcome day guests such as couples, groups of friends, staff, social clubs and the like. Ideal for annual events. Please call +354 471-1114 to make an appointment at Baðhúsið – SPA.
Prices – rates
Admittance for hotel guests is ikr. 2.000.- . For other guests admittance is ikr. 4.000 –.
Special offers can be made for groups upon request.
Please ask our staff for further information.